FOR SALE
SOLD!
Sigma 800mm f/5.6


(Tripod, camera, and tripod head are NOT included in the sale)



I am selling my *NON-ZOOM* Canon-mount Sigma 800mm f/5.6 EX DG APO HSM "Sigmonster". Why? Simply because I have too many big lenses and I never use this one anymore. I want

you

to use it, so that it doesn't go to waste sitting unused in my closet. Note that this is NOT the zoom version; the zoom version is heavier and has more glass elements which can cause more distortion (the non-zoom is reported by some to focus faster and to be sharper than the 300-800mm zoom).

Photos of this lens--showing the cosmetic wear on the outside of the lens housing--can be found at the bottom of this page. First, however, please click on each of the images below to see the stunning image quality that this lens has produced and continues to produce to this day. ALL OF THESE PHOTOS WERE TAKEN WITH THIS PARTICULAR LENS! Most were taken with a mere 8 megapixel prosumer camera (Canon 30D) though a few were taken with a 10-megapixel pro camera (1D Mk III). This is a Canon-mount Sigma lens (Canon EF mount -- compatible with all Canon DSLR cameras), and includes a lens hood, faux-leather lens cap, and soft travel case from Sigma. Shipping is from North Carolina. Carrier and speed are your choice, as shipping is at your expense. Payment is by cash if local pick-up, or PayPal otherwise. SHIPS ONLY TO LOWER 48 STATES. NO INTERNATIONAL SHIPPING.





* * * CLICK EACH THUMBNAIL TO ZOOM * * *








---
The Lens
This lens does have some cosmetic wear on the external tube, which does not affect the function of the lens whatsoever -- if you want your lens to look pretty on the outside, you can buy one of those camouflage lenscoats for it. The images below show the various scratches on the external tube. I cannot see any scratches on the actual glass elements (please zoom in on ALL of the images below), though there is a tiny spot on the objective lens that I can't polish away, so it might be a tiny cluster of micro-scratches (?). I can only see this spot when I shine bright light on the lens at just the right angle, and I wasn't able to get it to show up in the photos of the glass (see below). Regardless, the lens continues to produce sharp images as shown above. A few dust particles can be seen behind the objective lens element, but these do not affect image quality or functioning of the unit. The range limiter switch and autofocus/manual switch both work correctly. The autofocus motor works flawlessly. Everything about the lens functions just as well as the day I bought it. The faux-leather lens cap has a tiny, 1 centimeter tear that doesn't affect its us (it's on the side, not the part in front that covers the glass). This and the soft lens case are shown below (both included in sale).
This is a professional quality lens capable of taking professional quality photos!
* * * CLICK EACH THUMBNAIL TO ZOOM * * *
---
Soft Lens Case and Faux-Leather Lens Cap
(Manfrotto gimbal head is an additional $20):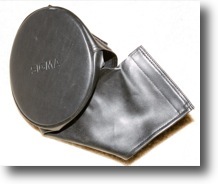 * * * CLICK EACH THUMBNAIL TO ZOOM * * *
---
BUY IT
$3999 US + shipping
Shipping is from Durham, NC
---
This lens currently sells new for $7399 on Amazon
(list price is $9700), so you're getting a well-tested unit for a little over half the new price:



Product Features
Ultra-quiet hyper-sonic motor (HSM), optimized for digital (DG), apochromatic (APO).
Two extraordinary low dispersion (ELD) glass elements, which help reduce chromatic aberration.
Optic materials are lead- and arsenic-free ecological glass.
Rear rotary filter holder for easy use of polarizing filters.
Dimensions
: 20.5 x 6.2 x 6.2 inches
Weight
: lens alone 10.4 lbs; shipping weight 26 lbs
Filter Size
= 46mm (Rear)
Amazon.com Product Description
The Sigma 800mm f5.6 EX HSM APO ultratelephoto lens incorporates two extraordinary low dispersion (ELD) glass elements, which help reduce chromatic aberration to the minimum limit. With a fast f5.6 aperture, this apochromatic lens also incorporates an internal focusing system to give you fast, responsive autofocus speed. The ultraquiet hyper-sonic motor (HSM) lets you shoot pictures without disturbing your subjects. Polarizing filters are extremely easy to use with this lens because of its rotary filter holder, located in the rear part of the lens barrel. The optic materials are lead- and arsenic-free ecological glass. This model is dedicated to Canon AF SLR cameras.
Comparable lenses:
Canon 800mm f/5.6 : $10900, 10 pounds
Canon 600mm f/4 : $8050, 12 pounds
---
email: bmajoros@duke.edu