Chincoteague VA, Cape Hatteras NC, Bombay Hook DE
October 23-25, 2006
---
For my fall vacation I decided to spend a full week touring some of the mid-Atlantic birding hotspots, hoping to both test out my new photography equipment (after recently switching from Nikon to Canon) in preparation for my Everglades visit this coming January, and hopefully to collect a few good images along the way.

My initial plans were to visit both the coast and also to loop around and hit some inland spots around my old home of Washington D.C. (red route below), and possibly also to venture into my even older home of PA (green route):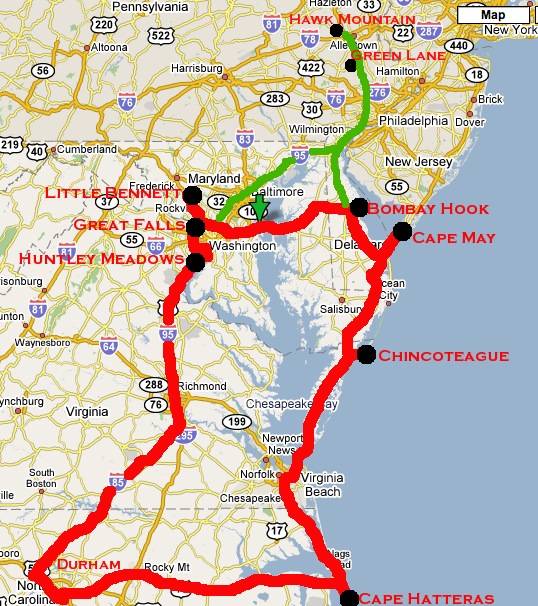 Due to poor weather (a cold front brought in heavy clouds and some occasional drizzle), I ended up shortening my trip to 3 days and visiting only the three big hotspots: Chincoteague VA, Bombay Hook DE, and Cape Hatteras (actually, Pea Island) NC. Starting from Durham, NC, you can see that even the reduced trip was quite long.

Despite the lousy weather, I was able to snag a few decent images, as shown below by location. Click on the "More" links to see the full album at each location.

But first, a quick review of the equipment used on this tour...

---
Equipment
I recently switched from Nikon to Canon. During this trip I tested out both my new Canon EOS 30D digital camera (8.3 Megapixels) and my new Canon EF 300mm f/2.8L IS USM lens, pictured together below:



This lens is a fairly big, though with some effort I found I could pretty easily master it in the field. Unfortunately, I made the mistake of buying it used and found that the sharpness of the lens was somewhat lacking; I have since returned it and am now using a much sharper lens combination: the Canon EF 400mm f/4 DO IS USM, and its little brother the Canon EF 400mm f/5.6L USM. The camera itself (Canon 30D) worked flawlessly, and I have since purchased a second 30D to both act as a backup to my primary camera and also to use for my tripod-mounted Orion telescope, which is shown below: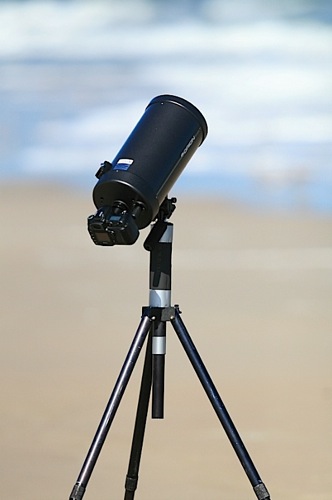 For this trip I used the Orion with the old Nikon D50 (6.1 Megapixels), which has since been retired. I now use this lens exclusively with the Canon 30D body. This is a fairly heavy rig -- notice the rubber pipe insulation taped to the central column, providing padding when slung over the shoulder. Carrying this thing around all day is an excellent form of exercise!

Unfortunately, a stiff wind kept up all day long, blowing tiny sand particles which collected into a film on the lens and degraded image quality considerably; regular swabs with the Zeiss Lens Cleaning fluid were necessary to maintain image quality.

---
next page: Outer Banks, NC

---