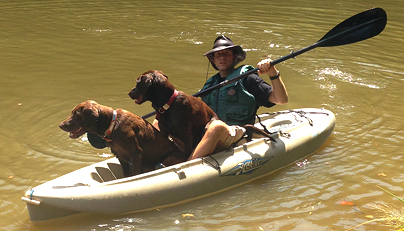 Brandy, Daisy, and Bill Majoros, August 2014.
Bill Majoros
[
Bill Mah-

jor

'-us
] -
noun
: an American author, scientist,
musician,
and bird photographer originally from a tiny village in rural Pennsylvania, who migrated early in his career to Washington D.C. to work for the United States Department of Defense on Top Secret missile technology, only to switch to genetics research during the Human Genome Project in 1999 and eventually settle in North Carolina, where he is currently working on a doctorate in computational molecular biology at Duke University. His book on identifying genes in DNA has been used in PhD courses at top universities, while his bird photography manual enjoys enormous popularity among birdwatchers. His bird photos have been used by the Audubon Society, the Cornell Lab of Ornithology, the Sierra Club, and the U.S. Fish and Wildlife Service. His music spans many styles from new age and classical to rock and heavy metal; he has played many instruments including violin, flute, guitar, piano, synthesizers, drums, and saxophone.